Our daughter, Kate, came into town to spend a few weeks with us. So we went to the coast (Ocean Shores/Moclips) for the Easter weekend. It was a great time as along the way we visited a cat breeder (more on that later) and stayed in a house on the cliff overlooking the beach. Although we missed the chocolate festival, the kite festival and the Fireman's Ball, we were there in perfect time for… the clamming season.
We'd never been clamming before but this wasn't going to stop us. We went to purchase a clam gun – although we were very impressed with the gentleman selling very slick ones on the roadside, we figured we go with the cheaper version from the gas station. Armed with the clam gun, a net and a clamming license we were good to go for Easter morning. An early start ensured we were out on the beach before the low tide and before too many people showed up.
If you haven't been clamming, there is an art to it. You need to watch as the water rolls out for little dimples in the sand which indicate the presence of a clam under the surface. You then quickly push the clam gun into the sound to cover the dimple and try to get it down far enough and then extract it to pull out a cylinder of sand with hopefully the clam inside the sand cylinder or exposed. It sounds easier that it really is, as there is significant suction that makes it difficult to lift the gun back out of the sand.
Kate tried her hand first. A few unsuccessful attempts, then Alice tried to no avail. I had more luck with a clam being exposed and then Kate was able to successfully extract two herself. Of course each time one was exposed, the girls squealed much to the amusement of the other clammers and I had to pull the clam out and toss it in the net.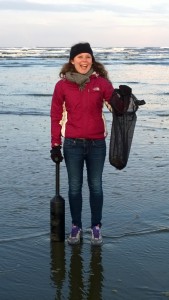 Once we had three (the limit is fifteen each), we figured we had enough for breakfast, so we headed back to the beach house. After I cleaned them Kate cooked them up and both she and Alice declared them very tasty and a great way to spend Easter morning.