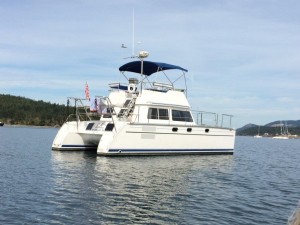 The last week was a great vacation in the San Juan Islands with our good friends, Peter and Nereis Long.  We chartered 'Le Chateau', a 35ft power catamaran with me as skipper and Peter as navigation and safety officer, Alice as the deck hand and tour guide and Nereis as the excellent chef – quite the crew! Each day we motored for 1-2 hours between islands and then had an adventure on arrival – hiking, exploring, shopping in harbors with shops and trying out the kayak.

We started out from Bellingham and went to Sucia Island on the first day where we picked up a mooring in Echo Bay.  Then it was off for a hike to Fossil Bay where we had no luck in finding a fossil, but the walk was still worthwhile.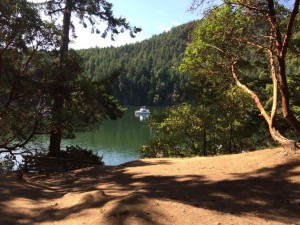 From Sucia it was off to Stuart Island where we again moored and then set off to explore the island and check out the Turn Point Lighthouse.  Along the way we found the school and museum and purchased some shirts from the treasure chest – a unique, honor-based approach to merchandising. The light house was very interesting and we had a tour of the lighthouse keeper's house which was well done and very well maintained – the Park service along with the volunteers do a great job in presenting these national heritage sites.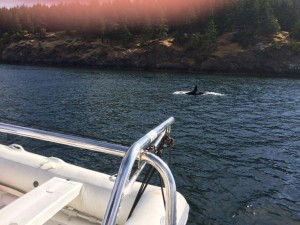 Then we went  to Roche Harbor but first did a detour to see if we could find some whales.  We were in luck!  We managed to come across a pod of Orcas as they travelled north.  We saw them coming so just put the engines in neutral and let them come to us – and what a show.  They were swimming within 100 yards of the boat and one even seemed to come towards us and then dive under the boat – just amazing!
In Roche Harbor we met up with our good friends and neighbors, Mike and Patti who had arrived on their boat the day before.  Mike had misheard me when I said I was getting a berth for a day in Roche Harbor and he thought it was my birthday.  So they had a gift and we all went off for a hilarious birthday dinner together with a birthday cake Mike had asked the wait staff to bring!   Best birthday ever and a total surprise!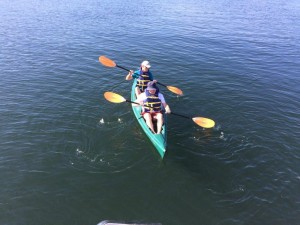 We then went to Shaw Island and anchored in Blind Bay.  Peter and I took the kayak we had rented out for a spin, very literally.  The thing kept wanting to turn right no matter which way we tried to paddle so it was quite the trek to get ashore and check out the general store.  Shaw Island has an interesting history as the general store, café and ferry dock had been run by nuns until a few years ago when they were getting a little old.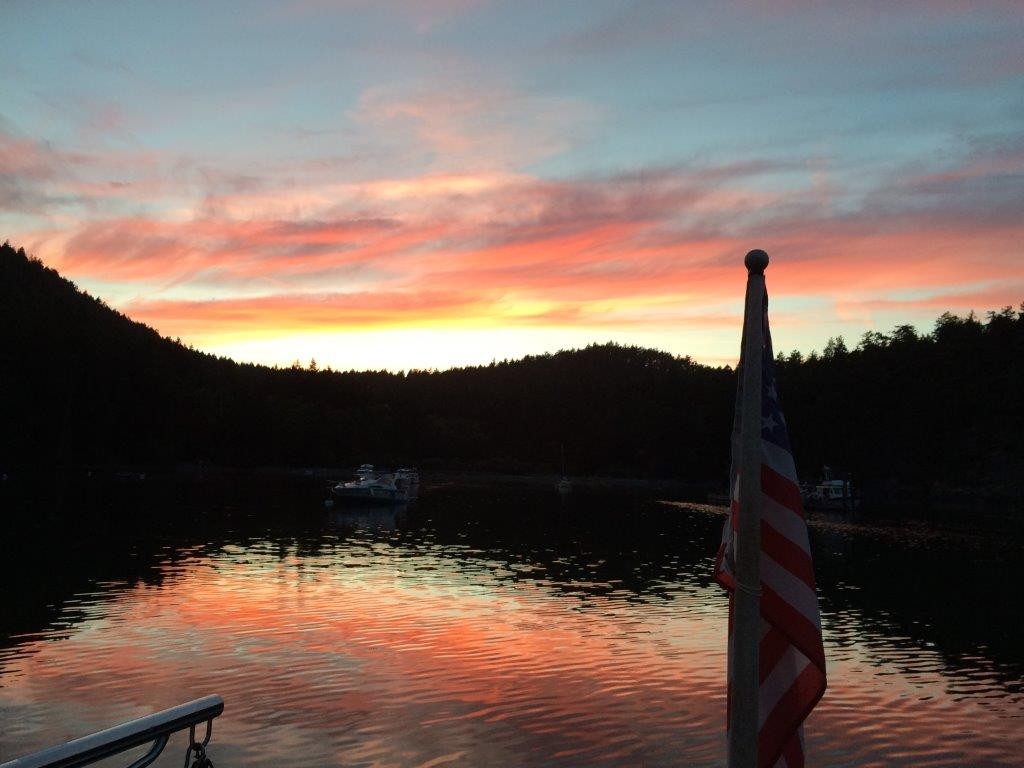 That evening there was a brilliant sunset. We returned to the general stored in the morning for espresso and pastries. After a lazy morning it was off to Orcas Island where I had reserved a dock at Rossario marina.
Rossario is a great old resort with a lot of history that illustrates the determination of individuals – in this case a Mr Moran who was a very successful ship builder and business man in Seattle who had fallen ill and was given 6 months to live.  He moved to Orcas Island and built his mansion in 1909 that is now the Rossario resort.  We arrived in time to take a hike up to Cascade Lake and then return to the mansion for the musical recital on the original organ and a 1900 Steinway piano accompanied by a slide show of original photos mostly taken by Mr Moran himself.  This was very well done.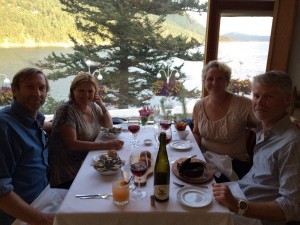 After washing up at the marina facilities (you don't know the pleasure of a long hot shower until you've spent a few days on small boat with limited water), it was off to the mansion for a great dinner and a hilarious waiter from Ireland who bonded with us once he figured out (very quickly) we were Australian.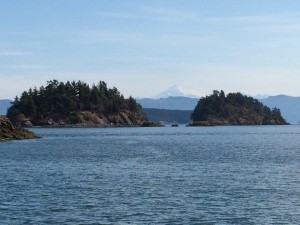 The next day, we motored to our last stop on Cypress Island and picked up a mooring in the very beautiful Eagle Harbor.  Then it was off for a hike past Duck Lake to Smuggler's Cove where we learnt the story of Mrs Zoe Hardy who must have been quite the character.  We did see a couple of vultures but no eagles – we must have a been a few weeks too late for that. A final dinner on board and it was time to ge ourselves ready to return to civilization.
During our cruise we had seen harbor seals, sea lion, porpoise, whales, and a snake. We had brilliant weather all during the week but the weather was turning and it rained all through the night. The rain let up long enough the next morning for us to make a pleasant passage back to Bellingham and safe docking to end our adventure. Truly a most excellent week!