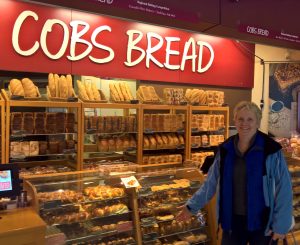 On the west coast, people head to Canada for different reasons – to visit Vancouver, to ski Whistler, for the cheap pharmaceuticals (so I'm told) or to escape US politics.  However we made a run for the border for a very different reason – to buy some hot cross buns 🙂  Alice had heard about Cobs Bakery which is chain of bakery stores in Canada that are in some way related to Australia's Baker's Delight.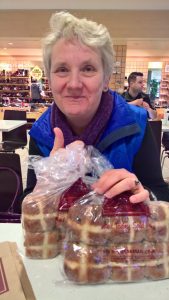 It's getting towards Easter and that means that in addition to their usual fare of great breads, fruit buns and scones they had fresh-baked hot cross buns. Authentic versions of these are hard to find in the US so of course we had to make a run.  We decided to make an overnight getaway of this and spent the night in White Rock, which is a small tourist town on the coast just across the border.  As it's still early Spring and the weather is still quite cold and wet, a number of the restaurants and little shops were closed.  Still we managed to find a nice restaurant for dinner as well as a breakfast place so all good.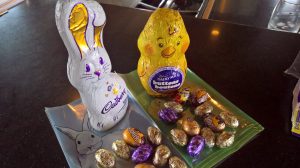 In addition to the buns and some fruit bread I also succumbed to buying some Cadbury Easter eggs, rabbits and chicks. After making our purchases, we made the return trip.
Going through the border crossing took some time and the CPB officer seemed a little skeptical that we only had some bread rolls but let us through all the same. We shared our treats with our neighbors on the dock, all of whom seemed to enjoy an early Easter gift.