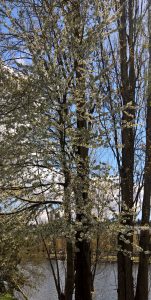 It's that time of year again!  The days are getting longer, the weather is warmer, birds are singing, trees are blooming and the Canadian geese are flying – it really must be Spring!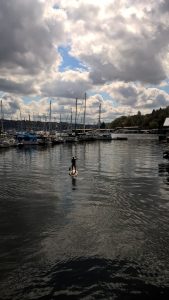 I've been out for a couple of kayaks already, but today was my first outing on the paddle board this season.
Absolutely great day for it – calm, sun peeking through clouds and I caught up with some people I know who were out on the water doing a 24-hour paddle to raise money for families fighting cancer.
On my previous kayak paddle I saw the Ice-cream Social Boat out as well as the old steam powered boat – with the "Sleepless in Seattle" floating home as a backdrop.
Yes! Spring is definitely here 🙂