Continuing on with our "gap year" of travel, Alice and I spent the last couple of weeks in Scotland. We started our adventure in Edinburgh with a couple of days to explore the tourist attractions along the Royal Mile including St Giles Cathedral, the Edinburgh Castle and Holyroodhouse Palace.
Palace at Holyroodhouse

Edinburgh Castle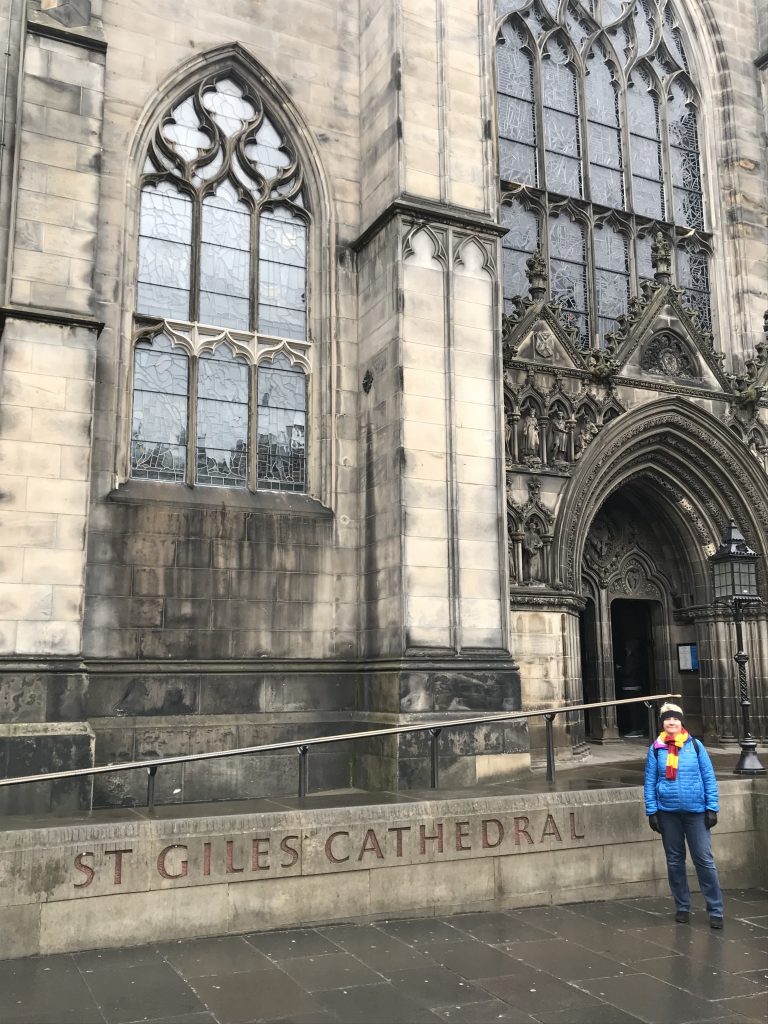 We were most impressed with Edinburgh – clean, friendly people and heaps of history to explore and appreciate. Of course the icing for Alice was that JK Rowling wrote the first Harry Potter book here. We had to make the pilgrimage to Elephant House, where she spent a lot of time writing as well as Greyfriars Kirkyard where she took inspiration from a number of the gravestones for names of people in her books as well as Victoria Street which was the inspiration for Diagon Alley.
Alice is happy..

in the Elephant House

Greyfriars Kirkyard

Victoria Street – inspiration for Diagon Alley
Then it was time to board the Royal Scotsman train for a terrific 7 day trip around many locations across Scotland. This was a truly great experience with exemplary service, great food, wine and whiskey and very comfortable accommodation. We were piped on board by a piper (the first of a number of such experiences) and welcomed with champagne (again the first of many times we would be welcomed back to the train with an alcoholic beverage).
Ready to board

Our home for the week!
Ready for another fancy dinner
Each day of the trip we had multiple excursions to visit historic sites, enjoy the tremendous Scottish scenery, learn more about Scotland and it's people, and to simply "take the air".
Ben Nevis in background

On the Isle of Bute

Some great stories

This was used as a location for Harry Potter movies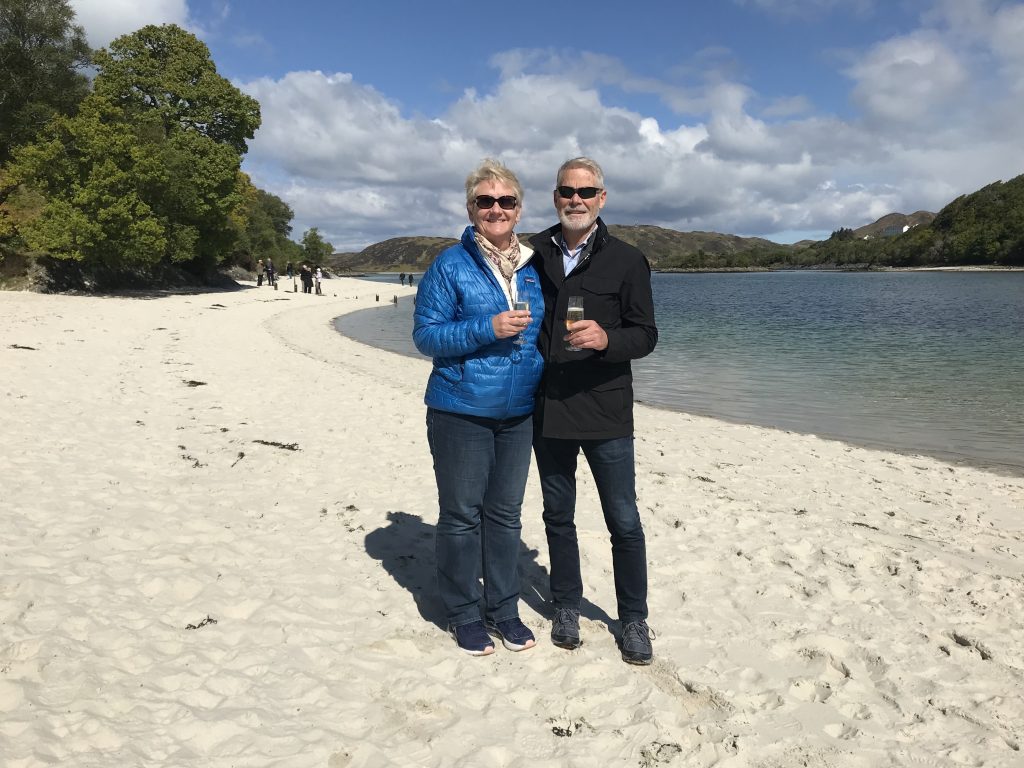 We visited many castles and impressive homes including Mount Stuart (completely over the top with the carvings, paintings and decor), Ballindaloch, Inverlochy Castle (where multiple royal weddings have been held), Eilean Donan (one of the most authentic medieval castles and the location for a number of movies including 'Highlander'), and Glamis Castle (the childhood home of the Queen Mother). Most impressively we were met and personally escorted by the Laird or Countess in multiple of these – very special indeed!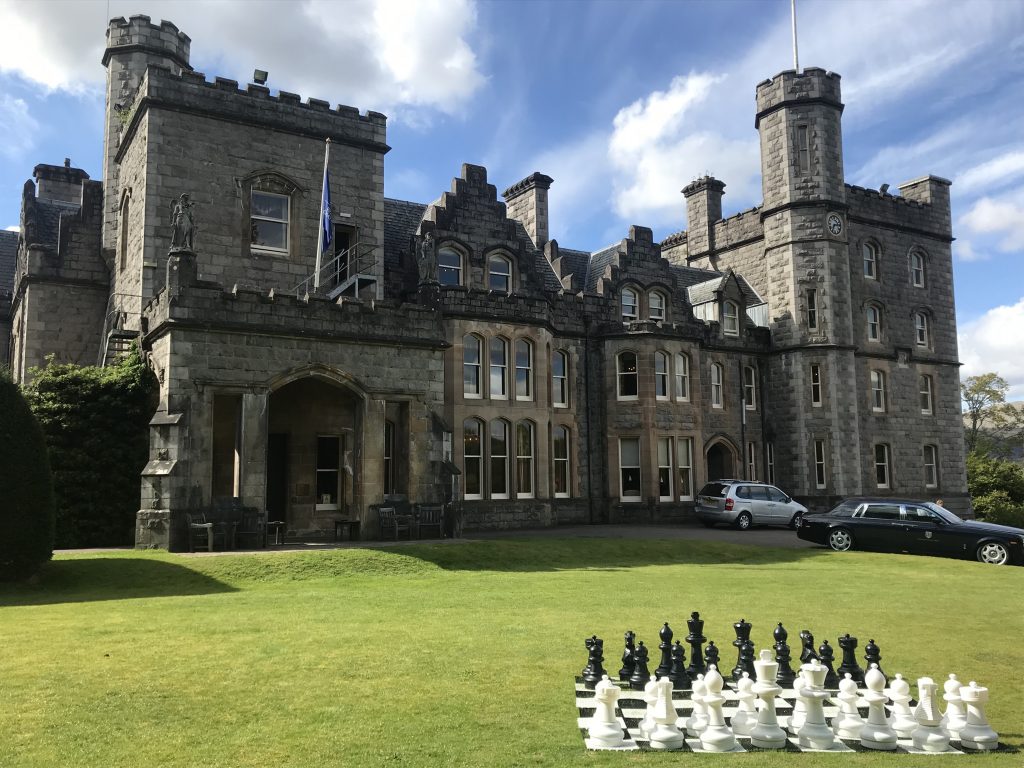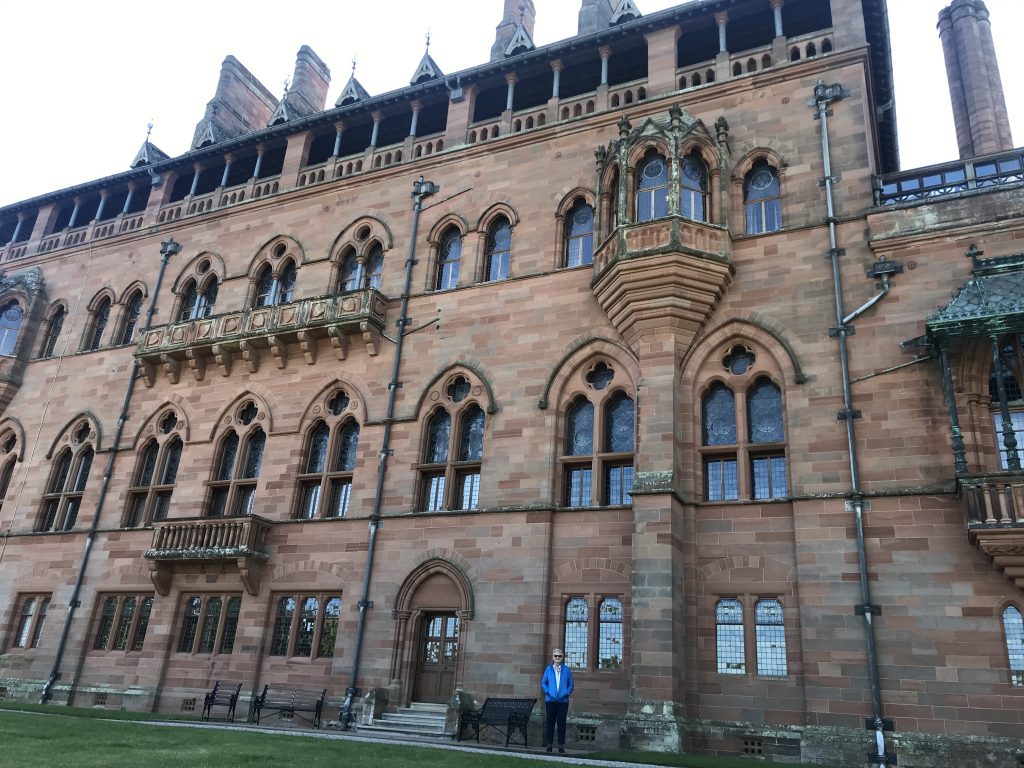 Private chapel in Mount Stuart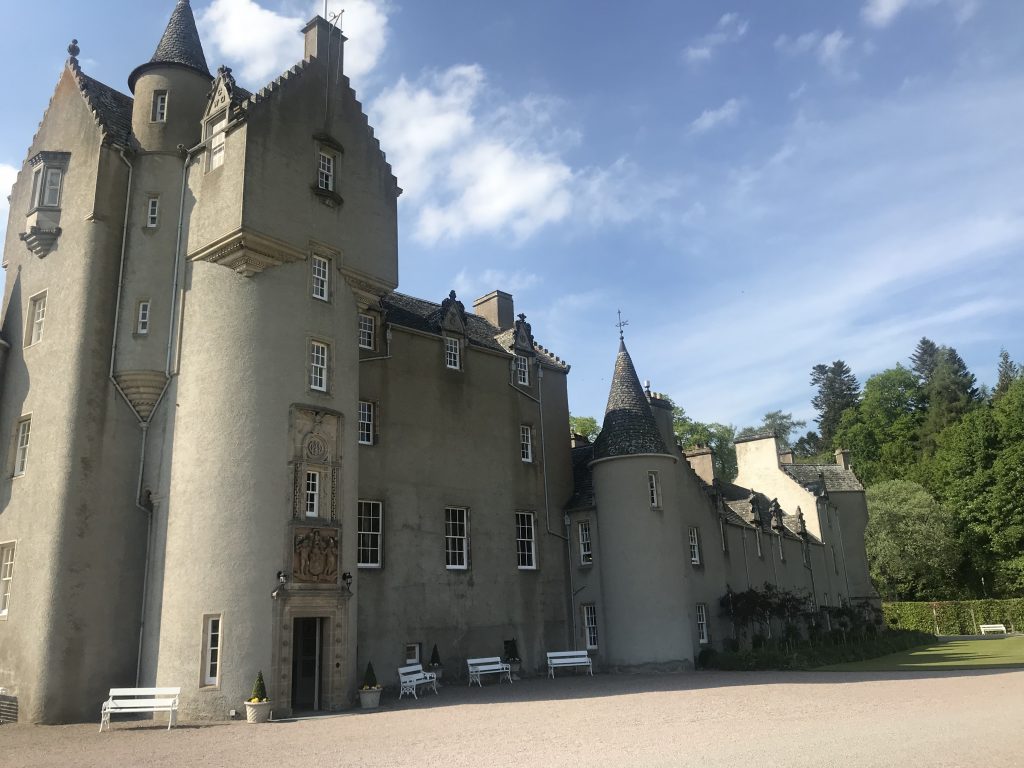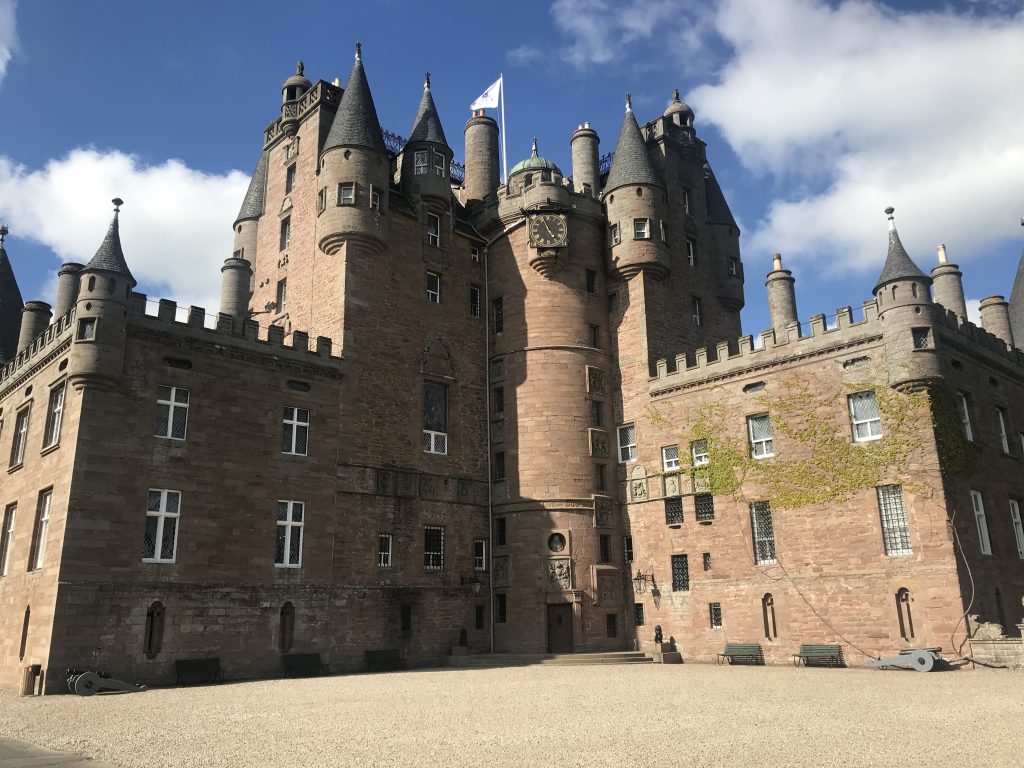 Another piper at..

historic Eilean Donan
On the train, we had some formal dinners as well as entertainment most evenings. Highland outfits were optional for the formal dinners, and while the French and English passengers dressed in kilts, I declined as I figured my legs weren't made for such an outfit.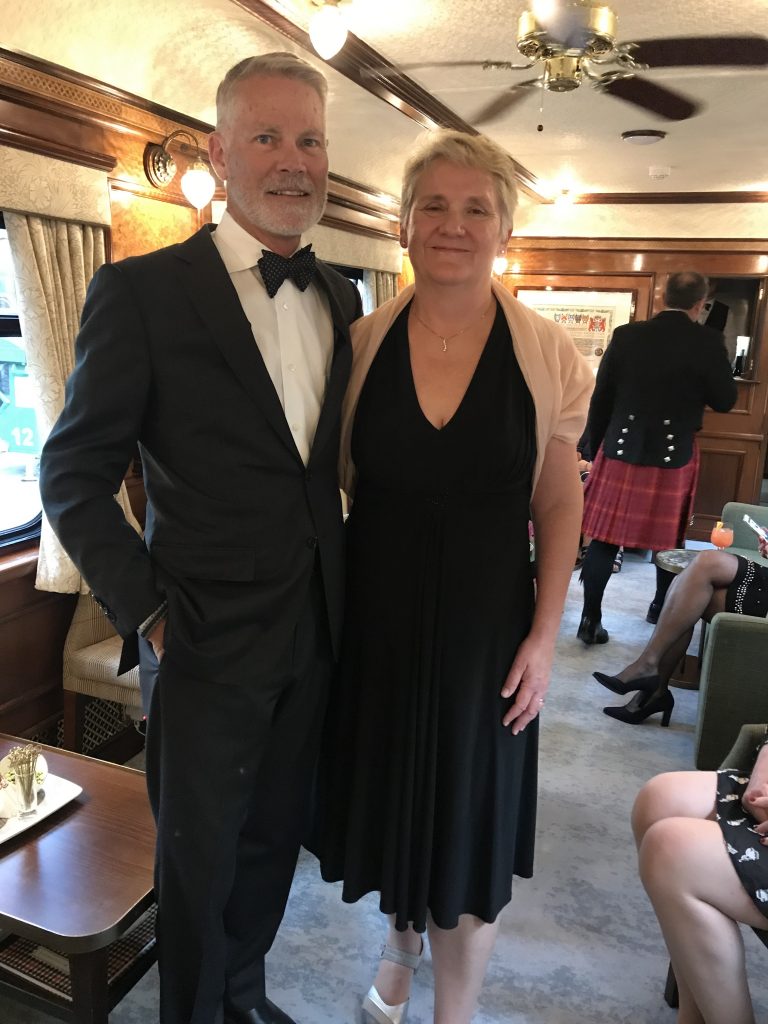 We also had a great visit to the Royal Yacht Britannia, which was very well done.
Queen's stateroom

Royal dining

before retiring to drawing room
We also visited the Glen Ord distillery where we saw the process and sampled multiple whiskeys.
It was sad to say goodbye to the train, but eventually we had to and then we spent another few days in Edinburgh.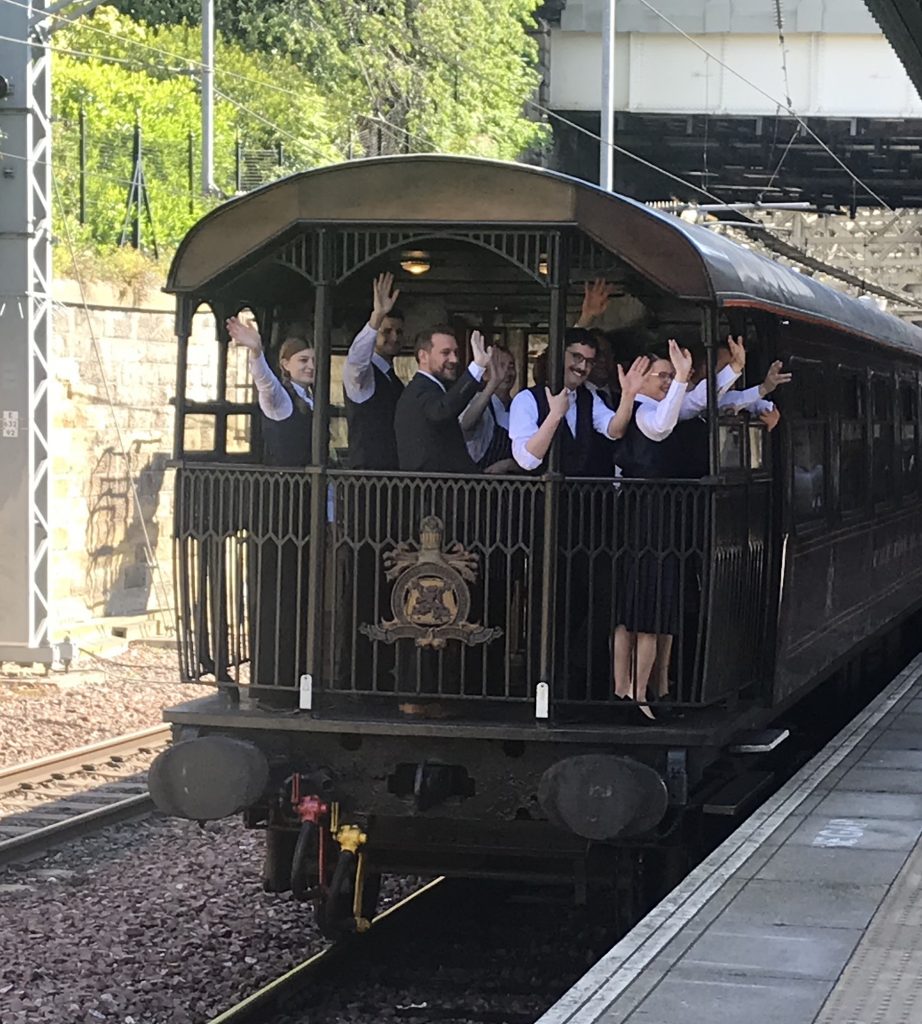 This time we stayed in the West End and enjoyed being a little further from the tourist throng around the Royal Mile but still with plenty of history, bars and restaurants within a short walk of our hotel. There was a great walk along the waters of Leith which was very tranquil in the midst of the city.
View from our hotel room

Waters of Leith walkway
We also toured the old underground at Real Mary King's Close and of course Alice had to do a Ghouls and Ghosts tour one night.
Our guide for the ghost tour

Alice with a death mask – scary!
We truly enjoyed our time in Scotland and were very lucky with the weather for May – relatively warm and sunny most days. Now another adventure awaits!