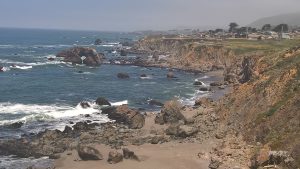 The continuation of my drive began with a fabulous drive up Highway 1 – the section from San Simeon to Big Sur was absolutely exceptional with some of the best ocean , cliff and beach scenery combined with some of the most exhilarating driving I have ever done.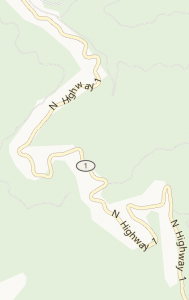 What really surprised me was how vehicles kept pulling aside and off the road (this was mostly two-lane) to allow me through even though I was not being aggressive and kept a respectful distance behind them, although I must admit I came upon them quite fast.
Crossing the Golden Gate bridge was a wonderful treat on what was a sunny day.  If you've been to San Francisco on a sunny day, you know exactly how beautiful that city can be. I stayed the first night in Sausalito which is a very cool town on the water just across the bay from San Francisco. This town has a great feel and is full of restaurants, coffee shops, galleries and of course many boats in the marina.   In some ways it reminded me of where we once lived in Sydney with the convenience of being able to take a ferry across to the city.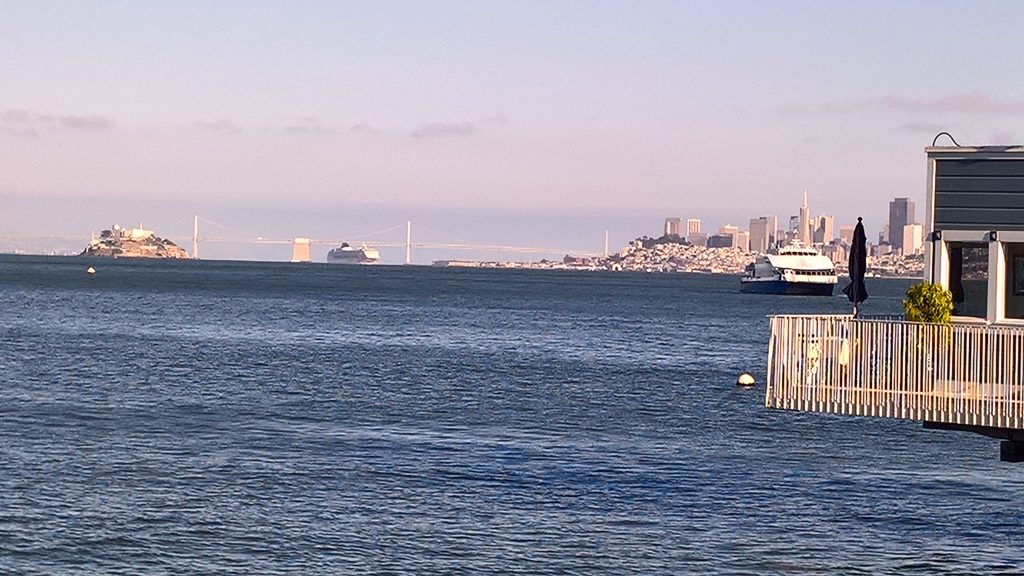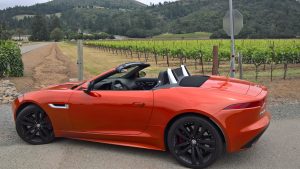 The next day I made the short trip to the Sonoma / Napa wine country.  This was a great change of pace and with truly beautiful countryside – there is something very calming about vineyards and the California countryside was still green from a reasonably wet winter.
I also had the opportunity to visit a few wineries and taste some great California wines – always a fun thing to do!
From there it was back to the coast through pretty dairy country to Bodega Bay and once again a fabulous drive up Highway 1 to Mendocino. Here I stayed in an older hotel that was being renovated but in a tremendous location on the coast overlooking wave-washed rocky outcrops that looked fabulous.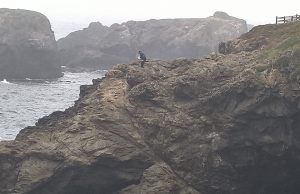 There are contenders for "Darwin Awards" everywhere and I had to take a photo of one who clearly ignored all warning signs re dangerous waves, slippery rocks and asking people to  stay behind the fence.
The next day was more tremendous driving up Highway 1 from Mendocino to Rockport.  I continued to be impressed with the courtesy of drivers pulling aside for me.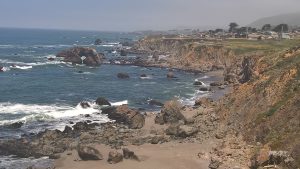 A little further on in Oregon I was on Highway 101 – a very pleasant, scenic drive that continues along the coast for the most part.  The Oregon coast changes from the rocky shores similar to northern California to broader, dark sandy beaches similar to southern Washington, but all were quite beautiful.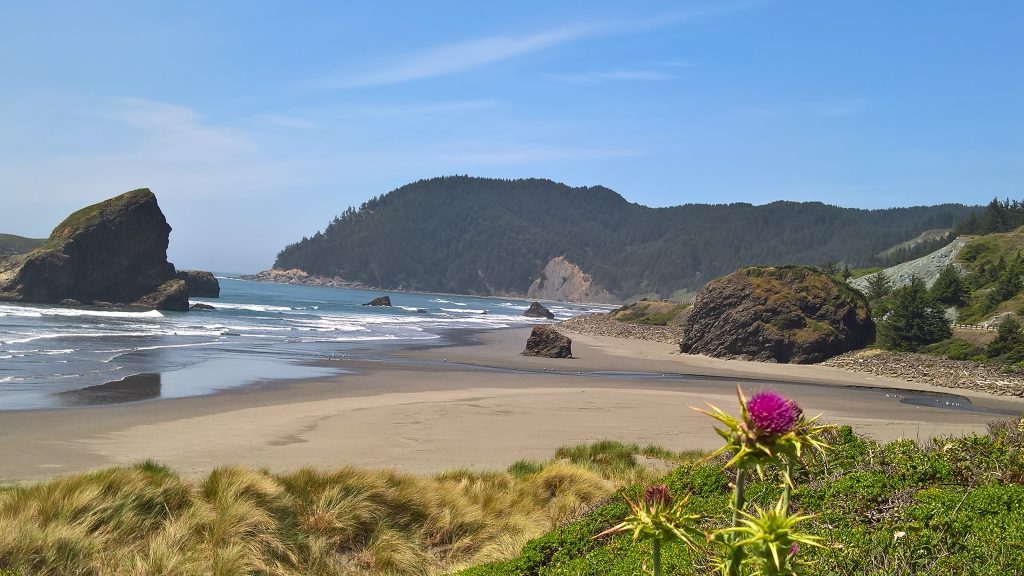 I was feeling pretty good about not having any incidents or tickets along my drive when I had my first potential encounter with Mr Plod about 1/3 up the Oregon Coast outside the town of Gold Beach.  I was in a 55mph zone on a two-lane road that was quite fun and I have to admit to being significantly over the suggested speed limit.  A police car came around the corner towards me so I hit the brakes, but as soon as we passed, he quickly flipped his car around and came up behind me, by which time I was below the speed limit.
While I waited for the blue and red lights and tried to appear very nonchalant looking at the scenery (the convertible top was down), the police car continued to follow me for several miles until we entered the town and the road became four lanes.  The police car pulled up beside me and the young policeman yelled out his window "Nice car!".  I thanked him and he continued on his way while I then pulled over for a coffee and a snack to celebrate my luck.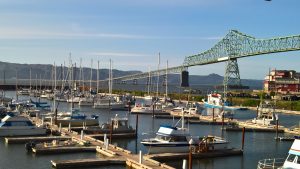 I spent my last night on the road in Astoria in a hotel overlooking the marina.  Every time I go to Astoria, I feel I really should spend more time there as it has a great, friendly feel to it and is interesting with its maritime history, lots of shipping traffic and some great museums.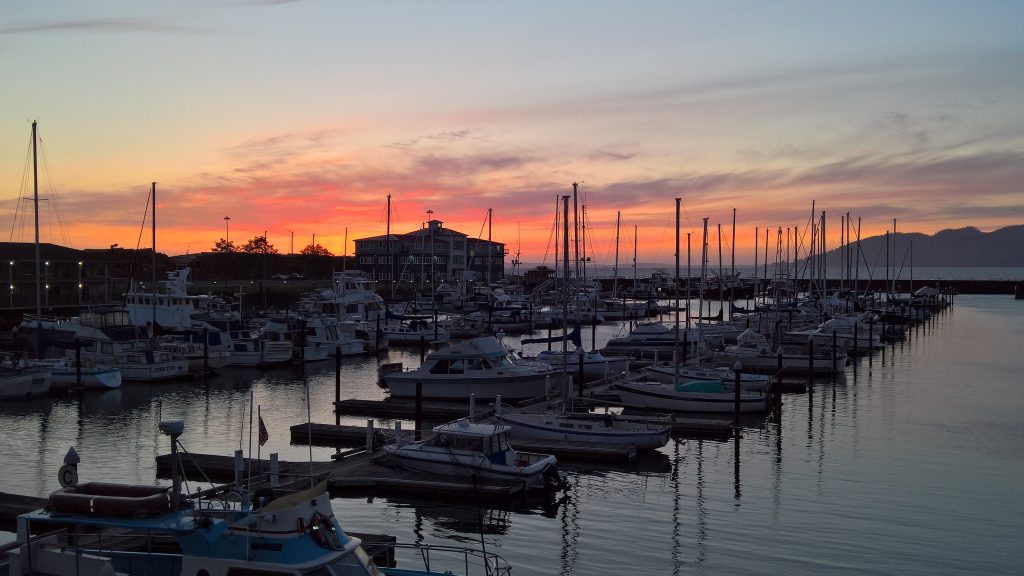 There is also the "original bridge to nowhere" that links Oregon and Washington.  This is a tremendous engineering feat and despite early derision, now carries a million vehicles a year.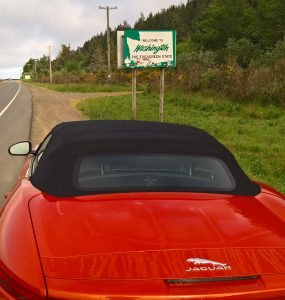 Then it was on into Washington and back home to Fremont in Seattle.  What an absolutely fabulous trip this has been.  I feel very refreshed and alive.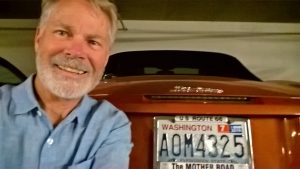 I had picked up a Route 66 number plate surround which the Jag now wears very proudly.