I've been waiting for this since August last year, when I placed the order for an Ares OC1 – a one-person outrigger canoe. I think COVID must have added some delays as it was first expected to be delivered in December, then January, then February and it finally showed up mid-March. A little frustrating, but well worth the wait. After collecting it from the local Polynesian Paddling Products store, I now have it in the storage rack at Keauhou Canoe Club.
For my first paddle, I stayed within the bay and spent some time getting a feel for the canoe (quite different to the 6-person and 12-person canoes), and doing some huli practice, where you deliberately capsize the canoe and practice righting it and getting back in.
I'm now paddling in the Ares three times a week in addition to joining the group paddle once a week. I'm still not totally comfortable as when the waves are up, the ama (outrigger) bounces quite a bit and although I haven't had a huli yet, each time I've gone out I have had one or more close calls, where I had to quickly shift my weight more to the left to bring the ama back down before it completely flipped over.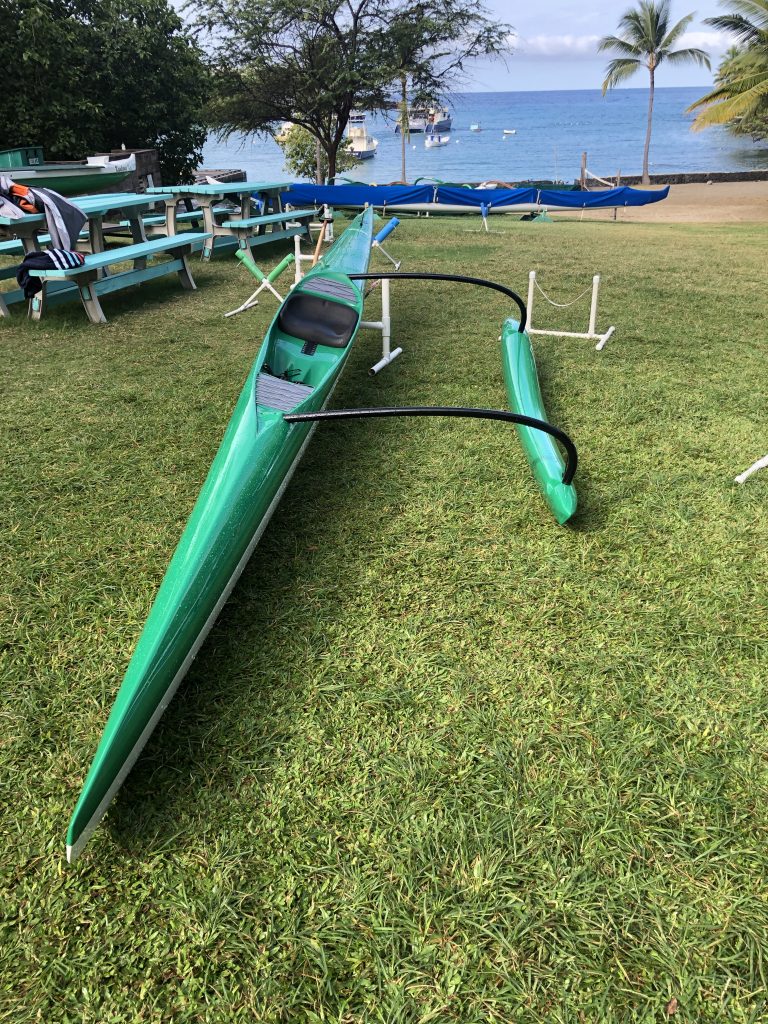 Still, I'm slowly getting a little more confident and getting more of a feel for what happens depending on how the canoe is aligned to the waves and the wind. After my third successful paddle, I decided it was time to make the canoe a little more personal, and so affixed a couple of decals I had sent over from Australia. On the main hull I've added the boxing kangaroo, which was first used as the sporting battle flag on Australia II when it won the America's Cup sailing competition. I also added the Southern Cross to the ama. I think these look great against the green hull, but of course that's just my opinion 🙂