It definitely was time to leave Seattle for several days to warm up, enjoy some sunshine and have a complete change of scenery.  As neither Kate and Adam nor Grant and Luke would be around for the holidays, Alice and I decided (after a small debate) to head to Florida.
Alice decided she absolutely needed to visit the new and improved Harry Potter World within Universal Studios and I figured a few days on the beach would be a great way to enjoy some warmth and sunshine.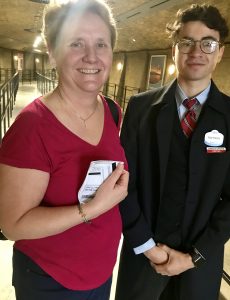 So off we went and stayed at a Universal property – Loews Portofino. It was a nice property, a little more our pace than some others that more family and youth oriented and the bonus was the short boat ride to the theme parks and of course the early admission and the Express ride benefits.
We certainly had fun and took advantage of the early admission to ride the most popular rides a couple of times in quick succession.  You can tell the newer technology incorporated into each generation of the rides and even though "Harry and the Forbidden Journey" remains a favorite, some of the features in the newer "Harry and the Escape from Gringotts" were even more impressive.
A new addition that is very cool is the Hogwarts train that connects the two theme parks.  The ride itself is complete with a story line and animation that is different in each direction.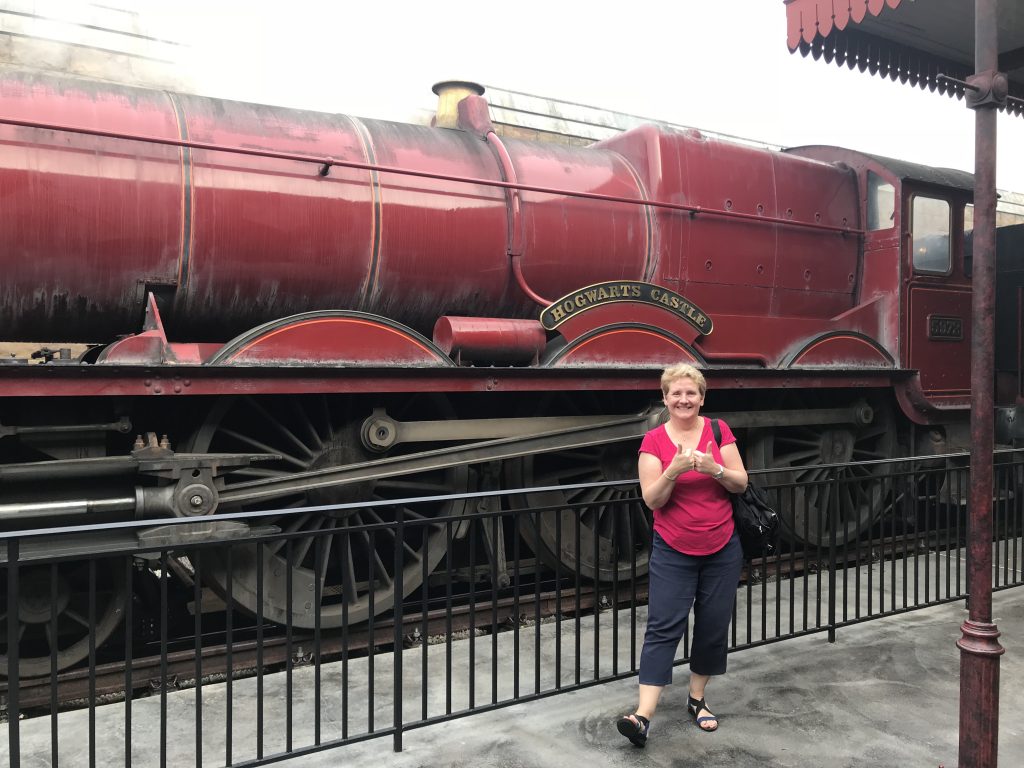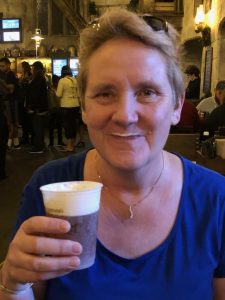 Also new from our last visit is Diagon Alley and Alice made sure we visited every store and spent time admiring the goods.  We also bought some gifts for Kaitlin and Adam as well as Alice's surrogate grandchildren.
At night there is a light show on the Hogwarts castle which is very impressive and results in a large crowd – when we were there thy had to limit the number of people coming into that area of the park.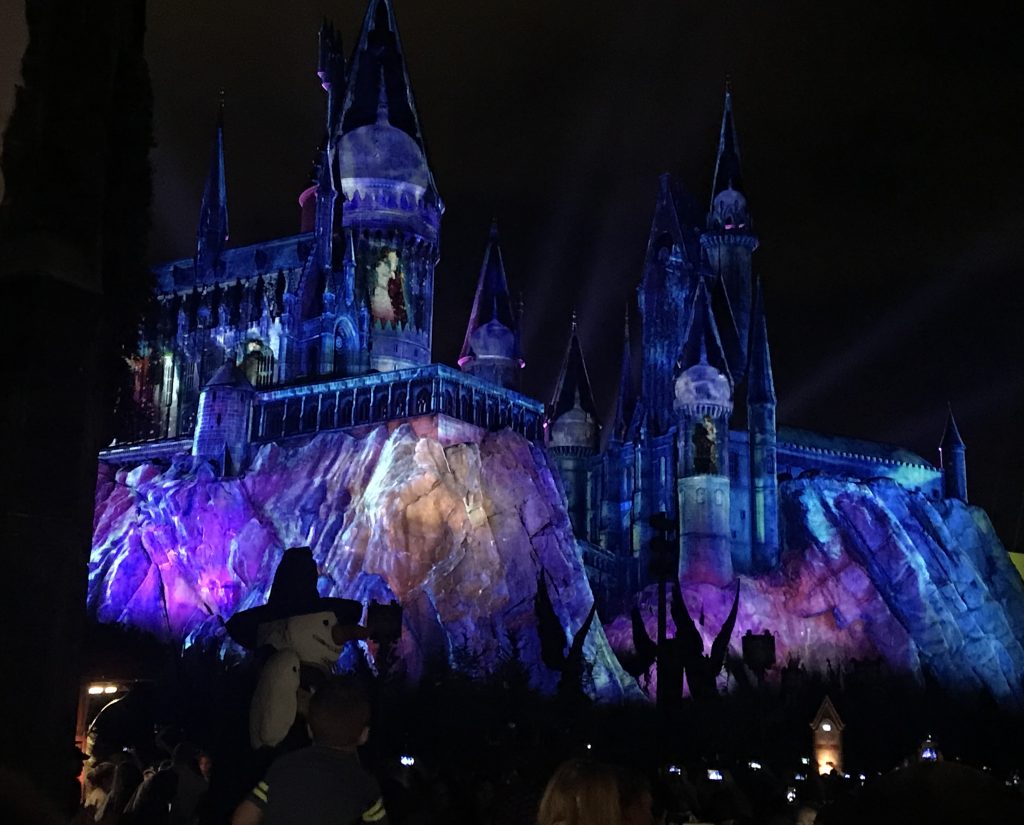 In addition to the theme parks we spent time around the pool enjoying the sunshine and in the evening explored the bars and restaurants of City Walk.  Christmas dinner was a very nice affair in Bice restaurant at the Portofino.
From Universal we drove over to New Smyrna Beach but took a detour on the way to visit St Augustine (a very cool and older town with a lot of history) as well as Daytona Beach.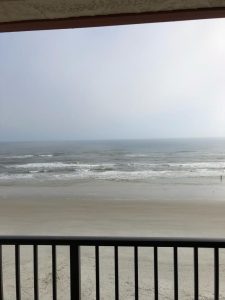 The condo had a beautiful outlook over the beach so we could enjoy the sound of waves (in Seattle waves means an idiot who doesn't know or care about no-wake zones on the lake) as well as beautiful sunrises.
Unfortunately the weather turned a little chilly which was a bummer as neither Alice nor I had brought a coat for colder weather.  Nevertheless we enjoyed ourselves and found a great French bakery as well as some nice coffee shops and bars which made up for the weather.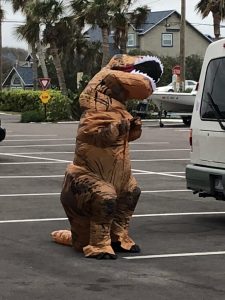 We were aware that Florida is into critters like "Gators" but weren't aware that we'd run into dinosaurs.  This one chased Alice down in the condo carpark, asking if she knew the location of Jurassic Park.
We explored the Canaveral state park and on our last day made the trip to Cocoa Beach which really is the quintessential beach town.  The sun was shining, the surfers were out, we had a great lunch.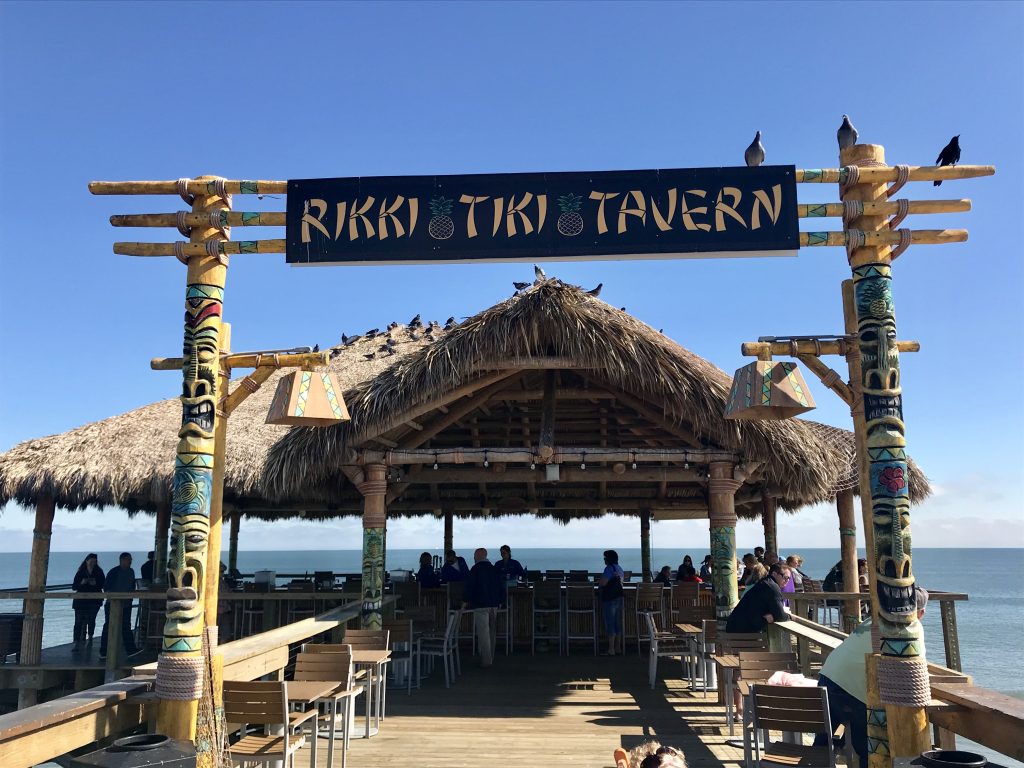 We flew back and even Seattle had some sunshine on New Year's Eve.  Previously in a very unusual occurrence, Seattle had a white Christmas as shown in the photo by one of our neighbors.  It seems we certainly made the right decision to escape to Florida.